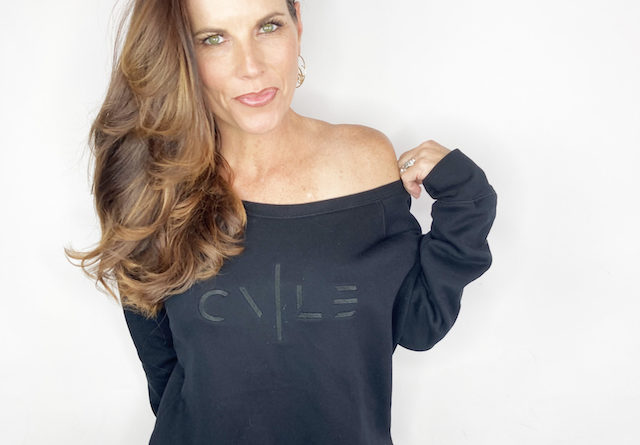 The Pickleball Fashionista
Aubri Steele competes and designs chic clothing
for Pickleball players with the rallying cry, 'be civil, play nicely'
Aubri Steele competes and designs chic clothing
for Pickleball players with the rallying cry, 'be civil, play nicely'
By Manny Cruz
It's remarkable how the pandemic, the loss of a mentor, and a paddleball sport with a funny name could drive a 43-year-old Solana Beach wife and mother of five teenagers to launch a stylish clothing design business with the simple mantra, "be civil, play nicely."
That would be Aubri Steele, a former high school and college teacher who came up with the idea of designing attractive clothing for men, women and children who like to play pickleball — a fast-growing sport who owes its popularity in part to the COVID-19 pandemic, which forced individuals and families isolated by the disease to invent different ways to entertain themselves in safe, relaxing activities. 
Some people invested more time in reading. Others took up new hobbies. Camping and other outdoor activities were also favorite things to do.
For Aubri, her husband Cody, a real estate executive, and their teenagers, pickleball was a welcome relief from isolation. Cody set up a net in their front yard, obtained balls and paddles, and play began. 
"We quickly became well-versed in the game and began inviting neighbors and friends to play, all while maintaining social distance and excessively sanitizing the equipment,"says Aubri. "This was the sport we could play with our parents And our children. Simply put, pickleball brought us together."
For the uninitiated, pickleball is a game resembling tennis where players use paddles to hit a perforated plastic ball over a net. Two or four players can play. 
The game has surged in popularity over the past two years. The Economist declared it "the fastest growing sport in America." According to the Sports & Fitness Industry Association, the sport attracted 4.2 million players in 2020, a 21 percent year-over-year increase.
Pickleball enthusiasts echo Aubri's sense of family togetherness. "Pickleball is the only sport where my whole family — from my kids to my parents — can play together," says Dave Fleming, 54, a senior pickleball pro. 
Stu Upson, CEO of USA Pickleball, s 50,000-member organization, says the game got a "big bump" in 2020 because of the pandemic. "People were really looking forward to opportunities to get outside in a safe environment and pickleball was perfect for that," he says.
One of the reasons the game is so popular is its simplicity, says Upton. "The game is pretty easy to learn. You can go out there and not embarrass yourself. It's a social sport. Players look at themselves as a community, and they welcome people to join the community. That's a pretty positive thing in today's divisive society."
Aubri, a Pickleball tournament player, says her clothing company, Civile Apparel, "was born out of the darkness of 2020 and the silver linings that brought unity and civility to our communities." "I saw firsthand how Pickleball transformed my family and wanted to share that same sentiment with others."
Yet it was the death of her father, Paul Hacker— a loved mentor to her — that sparked her entry into the clothing business. He died on Aug. 28, 2020, after battling cancer. 
Though he did not have a college degree or any formal training in business, Paul Hacker formed a small manufacturing company in 1978 which, over time, employed his entire family, all of his extended family and numerous other families as well.
"During the years in business, he lived by the 'rising tide' mentality, and always put people first," says Aubri. "He taught me that while it's important to own your strengths, it's just as critical to identify and own your weaknesses. Hire people to do what you can't, and honor their crafts."
"While I would have preferred to have started (the business) with him here by my side, it was some money given to me from him, at the end of his life, that enabled me to invest in making Civile Apparel come to fruition," says Aubri. "Plus, I have the hard work and support of my team of women partners who believe in this brand and me as my father would if he were here today. We have one additional partner who has invested capital, has a background in design, and brings a fresh set of eyes to our product development process."
Civile, pronounced "chi-vee-lay," translates to "civil" in Italian. "It represents the core pillars of unity and respect and a return to civility that we hope to inspire," says Aubri. "Civile was born to remind us all, no matter which side of the line you play on, be civil, play nicely."
Never mind that Aubri has no formal training in clothing design. It's somehow imbedded in her psyche. "I have always had a unique sense of style and have a knack for putting together outfits that are unexpected," she says. "Civile has allowed me the opportunity to flex my creative muscles through the design of our apparel. I wanted that to be reflected in the designs, so pieces like the Generous Harem pant and the Random Acts Dress are some of my favorites to style."
The Generous Harem pant, which sells for $138 and is available only in black, has a high-rise, ribbed waistline. Aubri's website (civileapparel.com) describes it as a pant "that allows you to rock an authentic drop-crotch style, true to the harem name, while maintaining a comfortable and flattering fit."
A class Little Black Dress, the Random Acts, is a "dress that enables the wearer to loop an elastic strap around her sports bra, securing the dress for on court play." It is priced at $148.
Many of the other fashions in Civile Apparel's collection — sweatshirts, tank tops, skirts, hoodies, pants, sweatpants, hats — are priced competitively with other top brands.
Aubri says the names of Civile products reflect the fun and unique qualities of pickleball. 
"Products like our classic 'Don't Be a Dink'shirt and the 'One Lob' tank are named after pickleball terms and puns so that Civile wearers feel connected to the pickleball community specifically."
"As I became more engrained in the sport, I noticed a lack of apparel that married my active lifestyle with who I was as a woman," says Aubri. "I wanted to be able to go from my office to the pickleball court, to the store, golfing with my husband, and maybe out for drinks, all with a great performance fabric fashion piece as the base. 
"Although I have no formal training, I currently take the lead in designing our pieces based on diversity, inclusion to be as multifaceted as the people wearing them. I tend to get inspiration from everywhere, from the foods I eat to the landscapes around me, but the most important inspiration comes from the people who will be wearing the clothing. I work hard to honor the beautiful elements of the human figure and best ways to highlight those while keeping things like movement and sun protection in mind."
The clothes, she says, are designed to be as diverse as the people wearing them.
Women's apparel is the most comprehensive line that the company produces, but the men's line will be expanded and — sometime in the future — children's pickleball clothes will be offered. Designs will not only come from CEO Aubri, but from members of her team — her five partners: Kerby Capri, Kate Nowlan, Casey Ladd, Sheri Tieman and Emily Berliant.
"I lean on my amazing team to lend their expertise, personal taste and insight," says Aubri. "And we love to receive feedback from our customer base."
And then, of course, there is Aubri's mother, her biggest fan. "She can often be found helping with inventory or assisting with basic daily tasks in the office," says Aubri. "She offers me the same 'whatever you need' support and mindset that she did to my father."
Civile Apparel works with local sew houses to produce their line of clothes. It allows the company to give back to the local economy.
While Civile's first year sales were strong,  Aubri wants to and plans to do more. "Having just recently jumped into this entrepreneurial journey with Civile, I plan to foster the growth of this business and take care of the people who have helped bring it to life before I move on to anything else," says Aubri. This is just the beginning. We plan to become a big player in the pickleball apparel market."
History of Pickleball
Pickleball has nothing to do with pickles, and everything to do with family, togetherness and good sport.
It was created in 1965 by three Washington State men — Joel Pritchard, Bill Bell and Barney McCallum.  Pritchard and Bell came home from a game of golf and found their families sitting around with nothing to do. After improvising a game on an old badminton court, they were joined by McCallum. They created pickleball rules, relying heavily on badminton.
According to USA Pickleball's History of the Game, the first known pickleball tournament was held at South Center Athletic Club in Tukwila, Washington in 1976.
Stu Upson, CEO of USA Pickleball, offers these comments on the sport:
Since 2013, USA Pickleball membership has grown 1,250 percent in its membership to more than 57,000. There are more than 1,800 USA Pickleball ambassadors nationwide. 
Why pickleball is so popular
There is a unique energy in the room when people mention the sport "pickleball" that you don't seem to find with any other sport. The game is fun, social, easy to learn, and a low barrier to entry with equipment to play the game being very inexpensive and easy to pick up at a sporting goods store near you or on PickleballCentral.com. Thanks to places2play.org, you can search for courts near you, bring your paddle and join in on open play games to make new friends and play with people at your same level. It's rare for a sport to know that if you go to the park by yourself, you're sure to find a group of people to jump in and play some games with, and instantly form new friendships. 
Pandemic – rise in popularity
During the pandemic, many Americans were seeking ways to stay healthy and active near their homes. Due to the pickleball court being 1/4 the size of a tennis court, it's easy to create a court in your driveway, in a parking lot, or within a gym space. So, many people were being introduced to the sport for the first time and playing with their family of four in the driveway, creating a new way of bonding as a family and having fun. The game is multi-generational, so we were seeing grandparents playing with their grandkids, and young adults in their 20s and 30s enjoying playing with their parents. 
https://www.sandiegometro.com/2022/04/the-pickleball-fashionista/